Green Ribbon Week
From September 20th to 24th, the MBS community participated in Green Ribbon Week or Mental Health Awareness Week where the Mental Health Matters Club held events on each day of the week during the afternoon collaborative period to spread awareness about teenage mental health.
Events for Mental Health Awareness Week started on Monday, where students created posters to spread the word about mental health in teenagers and remind students that they are not alone. On Wednesday, students were encouraged to wear green to show their support for mental health awareness. Many students came to school in full green outfits to show their support not only for the Mental Health Matters Club, but also for those who have struggled with their mental health. Later in the day, the club offered yoga that took place in the dance studio. Mental Health Matters Club leader Tori Fergus '22 explained that "the goal of Green Ribbon Week is to destigmatize youth mental health through methods like breathing, listening, and talking it out." Yoga falls under the breathing method that Green Ribbon Week promotes.
"
many children are experiencing an increase in stress and other mental health concerns"
"Mindful Coloring" took place on Thursday. Beaumont.org explains that coloring allows you to concentrate on one simple thing and clear your head of stress. The Mental Health Matters Club believed this would be a great way to spend the Thursday collaborative period. This coloring activity was one of the most popular activities of the week.
The last event of the week on Friday was a meditation session. As healthline.com explains in an article about the benefits of meditation, it can be very relaxing and calming and give you a chance to concentrate so you can be less stressed and more self aware. Leader of the Mental Health Matters Club, Liv Mann '23, explained that "a meditation session was a great and peaceful way to finish Green Ribbon Week."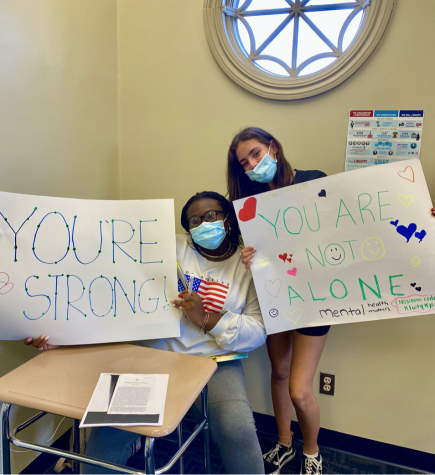 The Mental Health Matters Club (MHM) creates a safe environment for all students to come and share their experiences or even just to hear about others. Lockdowns, quarantines and distance learning have taken a toll on adolescents since the beginning of the pandemic. The National Institute of Mental Health (NIMH) has published early reports that suggest that many children are experiencing an increase in stress and other mental health concerns such as anxiety and depression.
Additionally, according to the Center for Disease Control (CDC), "as the pandemic has continued…the number of youths presenting to emergency rooms for suspected suicide attempts has increased significantly." They continue, "this is especially true for teenage girls who showed a 50% increase in emergency room visits early in 2021 compared to the same period in 2019." This makes it all the more important that students have a safe space on campus.