Fall Athlete Spotlight: Will Kuppenheimer
December 10, 2021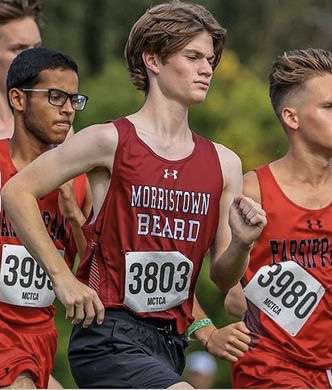 Photo: Steve Pachett, MBS Advancement Office
Not many people relate cross country to excitement in the way they would to basketball or football, but electric displays of athleticism are a staple of cross country meets. Unfortunately, cross country also suffers from a lack of recognition at the high school level due to factors such as remote race locations and the visual absence of the racers for most of the event. However, Crimson Sun's Athlete of the Quarter, Will Kuppenheimer '23, embodies a perfect example of the thrill cross country can have. 
Kuppenheimer has run cross country for all of his three years at Morristown Beard. In addition to cross country, he also runs winter and spring track. Over the years, Kuppenheimer has developed into one of the MBS cross country team's most impressive runners. To put it plainly, "he is very fast," said Evan Katz '24, a cross country team member. Kuppenheimer's racing times certainly proves this statement. In his most recent race, the NJAC Boys Small School Championship, Kuppenheimer ran a 5K in 19 minutes and 58 seconds, placing 71st in a contest of 146 racers. Kuppenheimer's best 5K was in a duel meet in Irvington, where he placed second overall and had a blazing fast time of 19 minutes and 20 seconds. 
These results do not come without hard work, and other cross country team members have noticed Kuppenheimer's determination during practice. "He is very devoted and determined," says captain Kate Wenzel '22. Josh Greenwood '24 said "Will has a lot of discipline in practice." Coach Gary Chan said that Kuppenheimer is a very hard worker and is continuously showing improvement. He said, "I am looking forward to seeing his progress next year."
"
[Cross Country] is a positive environment that's uplifting and supportive.
— Will Kuppenheimer
Kuppenheimer said that his favorite thing about cross country is "team and community spirit. It is a positive environment that's uplifting and supportive." It doesn't hurt that he also finds the sport to be enjoyable on its own. Coach Chan said that Kuppenheimer contributed greatly to this positive environment as he supported everyone and was the only team member to come to every meeting. Coach and science teacher Dr. Christopher Payette said, "[Will is a] real leader of the cross country team and is a pleasure to be around." Kuppenheimer's peers tend to agree with their coaches. Katz says that Will is a good teammate and Wenzel said that while Will takes the sport seriously, he also makes sure to have fun. 
Part of the reason for Kuppenheimer's love of the sport is for its ability to build one's "mental toughness."  He appreciates that in cross country, "you cannot blame anybody but yourself" if you get an undesirable result. Kuppenheimer is already looking to his future in cross country and says that he hopes to continue racing in college.