MBS Mourns Passing of Mr. Franz
On August 11th, the Morristown Beard community was saddened to learn of the passing of Eddie Franz. 
Arriving at MBS after brief stints at other school districts in the fall of 1983, Mr. Franz quickly became a stalwart of the MBS history department. A longtime educator at Morristown Beard,  Franz's devotion to the school community surpassed the confines of the classroom. During his time at MBS, Franz taught Constitutional Law in addition to general history courses.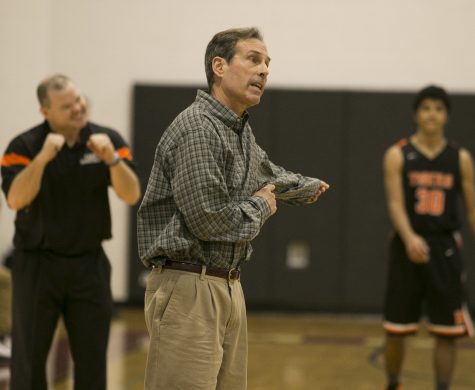 Outside of his work in the classroom, Franz will be remembered as a caring guidance counselor and skilled coach. Not only was he a standout basketball coach, leading the boys varsity team to more than a dozen titles at the conference and prep levels and amassing more than four hundred wins, but also he served as the varsity boys tennis coach for nineteen years, exceeding two-hundred wins in that position as well. With such a well-rounded resume that spans almost four decades, it is evident thatFranz had an indelible impact on the character of Morristown Beard,
It's difficult to overstate in any capacity what Franz meant to the hundreds — if not thousands — of students who knew him as a coach, teacher, and mentor. "[Mr. Franz] was a really nice guy… he was always open to giving help," said Graziella Meyers '23. Such a sentiment is echoed across students and coworkers alike who knew Franz. Charles Gibbs '23 said, "[Franz] would teach in a way that would relate to people…he would teach from current events, he would teach like he was having a conversation with you."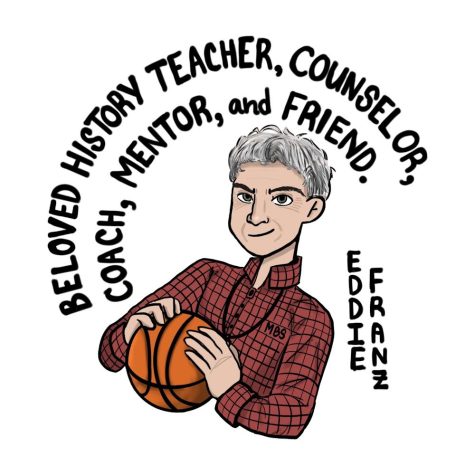 This unique teaching style Franz cultivated over his 39 years, though it is only one facet of what made him such a distinguished faculty member, continues to stand out as admirable to the student body. "It's very rare to find a teacher that will actually tell you how it is rather than how the world wants you to see it," says Gibbs.
Among coworkers, Mr. Franz will be remembered for his impeccable character and amicable nature. As history teacher Brian Maher puts it, "the first time I met Eddie was the interview… you could tell right off the bat that Eddie was a pretty energetic guy… — passionate — about what he did." Maher said, "We hit it off, and the rest is history… him as a coworker was just a guy very easy to be a teammate with and accomplish a lot of things." This aspect of Franz's personality easily lent itself to the relaxed — yet enriching — environment he sought to foster as a backdrop for student learning. Maher said: "He was always willing to sacrifice and do what he needed to do to put the kids first… he knew that every day there's a lot of chaos, there's a lot of adversity, there's a lot of obstacles, yet there was always a job to do, and that job was always to create the most fulfilling experience possible for you guys." Therein lies what made Mr. Franz so special to the MBS community, and truly defined him as a once-in-a-generation educator. As many of those interviewed so deftly put it: he would never let anything come in the way of being a good role model and teacher for his students.
"
He was always willing to sacrifice and do what he needed to do to put the kids first.
— Mr. Brian Maher, History Department
Outside the MBS community, Mr. Franz demonstrated his commitment to education and the youth. Over summers, he played a significant role in running LifeCamp, a six-week day camp in Tewksbury for inner-city kids to enjoy arts and athletics in the backdrop of nature. Franz spent thirty-four summers with LifeCamp, with much of that time in the role of Camp Director, and regularly brought in Morristown Beard students as volunteers or employees. Even this past July, Franz's dedication to LifeCamp's mission showed through as he fought to be present through as many days as possible. According to Tristen Miscia '23 who helped teach kids to bike at LifeCamp,  "everyone was really happy that he was there… when he came, all the kids rushed up to hug him." Miscia — who had had Franz for History 11 himself — said that "he had a lot of influence on [LifeCamp] … I liked how he really cared about all the kids there, and I could see that when he talked about it in class or just in general, he was really passionate about doing good things for them… when he came to me about assistance in the biking area, I was honored… I was happy to do that job."
Shortly after Mr. Franz's passing, MBS announced two new endowed funds in his honor: the Eddie Franz Endowed Chair for Wellness, and the Eddie Franz Endowed Scholarship Fund. The goal of these funds is to promote kindness, character, and leadership in students wishing to attend Morristown Beard. In this way, the incredible legacy left by Mr. Franz in his thirty-nine years will be carried on for generations to come.