Don't Worry About the Drama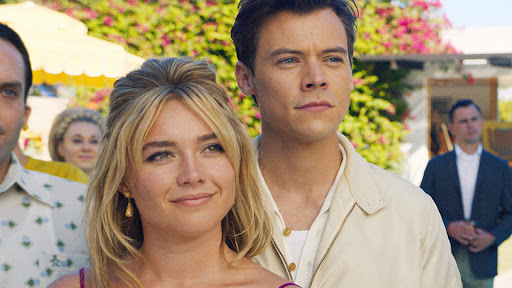 Don't Worry Darling, a new psychological thriller, premiered in theaters on September 23, 2022 earning $19.2 million during opening weekend. The film was directed by Olivia Wilde (Booksmart) and starred Florence Pugh (Little Women) and Harry Styles (Dunkirk). 
Don't Worry Darling  takes place in a perfectly isolated town, designed to look straight out of the 50s called Victory. In the town, gender stereotypes prevail – wives stay at home, where they clean, shop, and cook, while the husbands leave every day to work on a secret project. The movie's primary focus is on Jack and Alice (Styles and Pugh), a couple living in the Victory. At the start of the film Alice and Jack are very much in love and extremely happy with their life, but as another town resident (Margaret, played by Kiki Layne of Coming 2 America), starts to make waves, Alice begins to question her life in Victory.
Margret brings attention to herself and her husband by saying awful things about The Victory Project and its leader. Everyone, including Jack, ignores her, but Alice wants to know more. Slowly, Alice begins to notice things that don't seem right. For instance, she sees a plane crash in the distance, and when she goes to the crash spot, she finds nothing. People around Alice attempt to convince her everything is okay when it is clear to both Alice and the viewer that it's not. 
Overall, the movie was enjoyable (and not just because of Harry Styles). Because the trailer didn't reveal much, the viewer enters the theater not knowing what to expect. Wilde did an excellent job of easing the audience into the Victory world, so that when strange stuff occurs, it is easy to understand why it causes so much concern for Alice. 
Even with all the drama surrounding the movie before its release, including, but not limited to, the public feud between Wilde and Pugh,  it was still entertaining. However, while the cinematography and the aesthetic are gorgeous, the acting at some points is mediocre, and there are many unsolved questions and plot holes. 
However, how the film brings awareness to outdated gender stereotypes could grab the attention of an older demographic. Although fans may have crowded the theaters for Styles,  Pugh gave an excellent performance. The attention to detail of the character she represented was terrific. She made you genuinely scared for Alice. From her facial expressions to her dialogue, viewers could  truly empathize with Alice's pain. At the start, the movie appeared to be unique, but about halfway through the movie, things became somewhat predictable.
All in all, this movie, as Styles said in an interview during the Venice Film Festival, "feels like a movie ." Even though the drama between Wilde and her actors caused controversies among the cast members, the final product was outstanding. I would give it a 7.5 out of 10 and recommend it to anyone who likes psychological thrillers or Harry Styles. To find out what happens to Alice and Jack, you can watch Don't Worry Darling in theaters and streaming on HBOMax starting on November 7.
The Motion Picture Association (MPAA) rated the film R for "sexuality, violent content and language." For more information, check out parent and children reviews on Common Sense Media.