MBS Girls Hockey Captures Third Consecutive State Title
There was cause for celebration on January 18th, even if it didn't feel like it on the ice. In the midst of a 6-2 defeat at the hands of the New York Portledge Panthers, the Crimson girls hockey program had officially made it five years since their last in-state regular season loss. 
"
In between losses, however, a comprehensive senior day performance dispatched Westfield to the tune of ten goals in only two-and-a-half periods. 
The Portledge game interrupted a string of dominating wins, though soon became a footnote as the second half of the season kicked into gear with a draw against Oak Knoll, followed by four consecutive victories. At this point, only three regular season games remained until the inaugural divisional playoff, the Librera Cup. Unfortunately, the Crimson once again faltered against both Portledge — albeit only by a margin of one goal — and the Hoosac Owls. In between losses, however, a comprehensive senior day performance dispatched Westfield to the tune of ten goals in only two-and-a-half periods. 
As part of the most contentious division, the Librera Cup was perhaps ample indication of the teams that the Crimson would meet late in their state tournament run. That much seemed to hold true as the first round saw a rematch of last season's state final. Like then, the contest was decided in shutout fashion, as juniors Jessica Sperling and Kailin Kane's goals assured that top-seeded Morristown Beard would advance, 3-0, to face second-seeded Pingry. Once more, three Crimson shots ripped the back of the net, though late heroics were needed to edge Pingry out of the title, as their shot-for-shot efforts paid off until a late goal by Kane broke a 2-2 tie.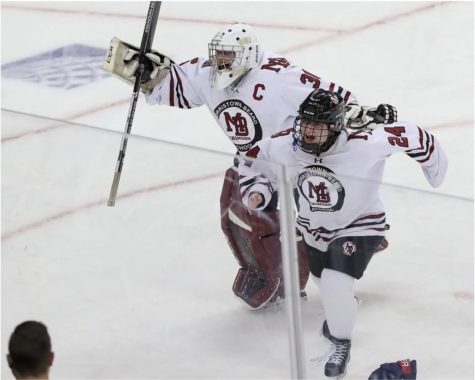 Two final regular season games were to take place in between the divisional cup finals and the first round state tournament, into which the Crimson hoped to carry momentum from capturing the first Librera Cup title. MBS first played host to Portledge, then Rye Country Day one day later. It was each team's third bout with the Crimson this season; Portledge had captured wins in both prior meetups, while the series versus Rye Country Day had been dominated by the Crimson, for an aggregate score of 13-2.  This time, however, it was both teams who found success; Portledge eked out another one-score win, while Rye Country Day cashed in on a severely shorthanded Morristown Beard squad, to escape Twin Oaks on a similarly narrow 4-2 scoreline.
If these two losses spooked the team ahead of tournament play, there was certainly no indication in the quarterfinal matchup versus Trinity Hall. The upset-minded eighth-seeded Monarchs had just come off a dominating play-in round victory against Chatham, but were thoroughly staved off by a potent Crimson offense and relentless defense which allowed only 18 shots against 39 of their own. In the end, a goal apiece for Sperling and Lillian (Lilli) Warnock '23 made the difference, and a 2-1 victory ensured a semifinal berth against fourth-seeded Princeton Day. "Our message after that struggle against [Trinity Hall] was to really buckle down and get back to work, knowing that by how well we prepared for Princeton Day would determine our result," said assistant coach Brian Maher, also a member of the Upper School History Department.  This message certainly seemed to resonate with the team, who, just three days later, handed Princeton Day their most lopsided loss on the season. Sperling, Warnock, and Kane again combined for five goals, while senior goaltender Graziella (Gracie) Meyers turned away eighteen shots on the other end of the ice, to preserve Morristown Beard's fifth shutout of the season. 
With their fourth win of the season over Princeton Day, MBS had punched their ticket to the state finals at the Prudential Center for the third consecutive season, where they were set to again face second-seeded Pingry. The game was an immediate uphill battle, as equipment issues temporarily sidelined Meyers, while a slow first few minutes eventually produced a 9-2 shot advantage for Pingry. However, backup goaltender Hannah Mortazavi '26 proved to be more than ready for the occasion, and helped to stabilize the game by holding strong against twelve Pingry shots in her first playoff start. Meyers said, "I'm just so proud of [Mortazavi], that as a freshman she had enough confidence to get in the net and compete with girls who are much older, in a very stressful situation." With a solid defensive foundation anchored by two experienced goaltenders, a surging offense then began to melt away Pingry's shot differential, and cut it to +5 for Morristown Beard as the first period closed, knotted at 0-0. 
"
It's about being happy with what we've accomplished, though it's also realizing we've got a target on our backs… it's trusting the culture and the process that we've created, and knowing that when we prepare that much harder, we set ourselves up for success.
The second period progressed much the same as the first, though with a goaltender change in the Crimson net, having resolved an apparent skate malfunction. It wasn't until eighteen minutes into the period that either team lit the lamp, when Warnock skated in a puck played in by Julie Jasaitis '25 and Keira Redmond '24, beating Pingry's goalie low on the stick side. This remained the only score of the game, until Kane again extended the lead five minutes into the third period, chipping in a rebound off a hard-fought shot from the point by Sperling. Pingry was briefly rejuvenated, as an errant shot was poked into the net to cut the lead to one with under ten seconds left, though these efforts were not enough to stop Crimson on the way to their third state title. Maher said, "It's about being happy with what we've accomplished, though it's also realizing we've got a target on our backs… it's trusting the culture and the process that we've created, and knowing that when we prepare that much harder, we set ourselves up for success."