Girls Tennis has Successful Season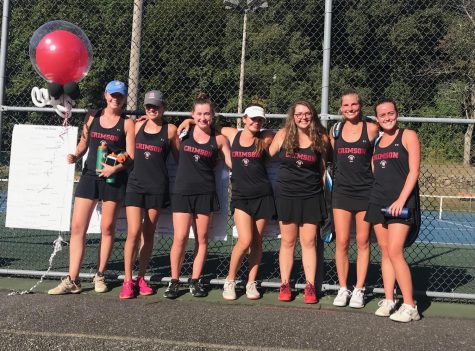 The Morristown-Beard Girls Varsity Tennis team was recently named by the Daily Record on October 8th as one of the top 10 fall sports teams in Morris County, on its "all-sports" ranking list.  The newspaper honored the team with this distinction from a field including every varsity sports team in Morris County.
The paper stated that the Crimson Girls Varsity Tennis team, is "undefeated against Northwest Jersey Athletic Conference competition." Morristown-Beard Girls Varsity tennis team's record was 15-4.
The singles line-up consists of first singles, Senior Louisa Randazzo; second singles, Freshman Olivia Siegel; and third singles Senior Molly Michel.  Junior Hannah Blake and Sophomore Sophie Schramm are the first doubles duo.  Seniors Katie McDonald and Julia Abbott play second doubles. Alternates include Seniors Morgan Angelo, Emma Kenny, Nicole Westwood and Jackie Levy. 
"I am proud of the honor for the team in the Daily Record.  It validates how hard the team has worked," said Coach Brett Michel.  "Considering there are well over one hundred varsity sports programs in Morris County, it is quite an honor.  The on-court success has been amazing, but I am equally proud of how close everyone has become." 
"Louisa, Olivia, and Molly have played a huge part in our team's success.  Considering the level of competition we play, for Olivia and Molly to be at twelve wins for the season is impressive.  This was Molly's third trip to the county semi-finals in four years.  For Olivia to play at such a high level as a freshman shows that the team will continue to be successful for years to come.  Louisa has to play the best player from each team… She has done an amazing job," Coach Michel continued.
"It has been a great experience to play on the varsity team as a freshman," Olivia Siegel said. "I'm excited for our states matches."
Molly Michel '20 said, "My expectations for the season were very positive overall.  I expected to have a better line-up than last year and I knew we were going to have a greater depth… as well.  I was also really excited to be co-captains with Louisa, because of our history of playing second doubles freshman year, to finally being seniors and leading the team that we love." 
"First doubles winning the county championship validates what a strong partnership Hannah and Sophie have.  For Katie and Julia to get to the semifinals at counties was quite an achievement, as well," Coach Michel added.  Schramm said, "Winning counties was surreal!  I knew both of the girls who we were playing against and I thought it was impossible to win, yet we still tried our best."  Blake added, "Results-wise, the girls tennis team has been pretty good for awhile, and we have a lot of returning starters.  I definitely expect the trend to continue."
Katie McDonald '20 stated, "Our success this season is because of the bond we have built as a team." After a dominant 5-0 victory over St. Elizabeth in the state tournament quarterfinals on Monday, October 7, the Crimson travelled to Gill St. Bernard's for the semifinals on Friday, October 11, and pulled off a remarkable 3-2 upset of New Jersey's eighth ranked team by nj.com.  They did, however, meet their match in the sectional final against perennial power Newark Academy on Tuesday, October 15.  Despite their loss to the Minutemen, this Crimson Girls' Tennis team will long be remembered for being one of the most successful in program history.