Girls' Basketball Dribbles to Success
The Morristown-Beard girls' basketball team had a lot to live up to this year. Last season, they won the county tournament with an impressive buzzer-beater from Christina De Mattheis, '19. Their record was 25 and 4. They started this season with the loss of four seniors, two of whom were starters.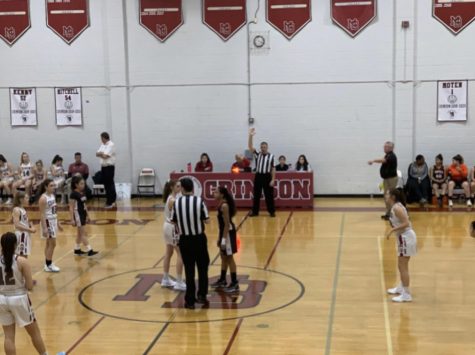 The team came together as one cohesive unit this year. The transition from 2018-19 was a challenge because the team lost active and consistent players; however, current players did a great job adjusting. Addisyn Ibrahim, '20, said, "overall I think as a team we have grown after the big loss [of] the seniors. Everyone is moving into their new positions very well and are figuring out their identity on the team." Many players have filled positions that are more significant than those they previously occupied. Ibrahim, Joele Russomanno, '21, and Kirsten Harvett, '22, have stepped up and excelled in new positions on the court. Emma Kenny, '20, said her favorite part of the basketball season this year is the team dynamic. She said that the girls on the team all appreciate the trust they have built with each other throughout the years. Coach Michael Sturgeon describes his job as truly enjoyable. He said, "I don't have to deal with any of the side stuff that goes on. It's just coaching basketball. They're in it for one goal. They want to win; there's no drama. I think that's the best part of it." 
    The girls' biggest challenge was the Morris County Tournament. Coach Sturgeon said, "the pressure is ongoing into the county championships. We were seated as a low seed, and now we have an uphill climb to get to where we want in the county tournament." While MBS is known for its comebacks, the girls fell short of defending their title in 2020, falling to Morris Knolls, 56-49.  In the state tournament, the girls defeated higher-seeded St. Elizabeth 45-31, but saw their season end in a 74-40 defeat to state-ranked and top-seeded Saddle River Day.