A Historic Inauguration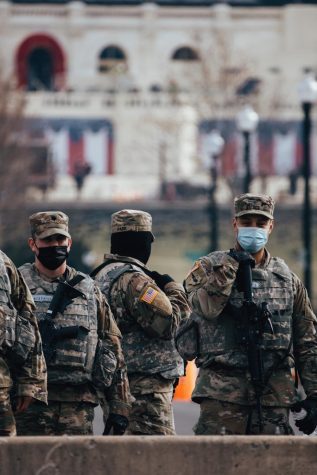 On January 20, 2021, Joe Biden was sworn in as the 46th President of the United States, and Kamala Harris was sworn in as the 49th Vice President of the United States. This inauguration was historic for a multitude of reasons, including the safety precautions taken due to the coronavirus and threats of right-wing extremism, as well as the ground-breaking nature of Harris, becoming the first woman to hold the second-highest office in the federal government.
After Biden and Harris took their oaths of office, President Biden made his Inaugural Address. He preached national unity in this time of great division, imploring Americans to "end this uncivil war," a reference to America's Civil War well over a century ago. History teacher Dr. Jordan Reed said that Biden's speech "was relatively similar in its content" to past inaugural speeches. Reed explained further that, like past presidents, Biden "attempted to project an optimistic portrait of America's future."
Other memorable moments from the ceremony included Amanda Gorman's reading of her poem "The Hill We Climb," another nod to Biden's overall message of national unity. Gorman is a youth poet laureate whose well-received performance at the inaugural ceremony won her a chance to perform at the Super Bowl a few weeks later. Gorman is the youngest inaugural poet in U.S. history. Garth Brooks' delivery of "Amazing Grace" was also particularly striking, with many remembering when President Obama sang the song in a similar attempt at unity after the 2015 Charleston church shooting. 
Biden's message of united change has been met in some ways during the early days of his nascent administration, while it has inevitably fallen short in others. He has begun tackling the problems at hand, signing dozens of executive orders and actions to combat a wide array of national crises, from the coronavirus to racial justice to climate change. Reed said that President Biden had created a fresh start for the nation in terms of ramping up the manufacturing and distribution of COVID-19 vaccines, one of his most prominent campaign promises.  
Unfortunately, political division has not been ameliorated to the extent President Biden wished. There were partisan battles over the size and scope of a COVID-19 relief package and the impeachment trial of former President Donald Trump in just the first ten days of the new administration (the bill, the American Rescue Plan Act, was passed on March 11 promising $1.9 trillion in aid). This should not be surprising, though, due to the extent of partisan polarization that has built up over the last several years. "That type of political division does not go away quickly," Reed said.
While there certainly have been challenges in the opening days of the Biden administration, it has undoubtedly been a refreshing period for the country. Whether Joe Biden and his administration can solve the many problems at hand will be seen in the coming months and years, and, hopefully, he will have a united nation behind him.