A Most Unusual Winter Sports Season
Athletic competition is the hallmark of many students' experiences at MBS, but the COVID-19 pandemic has seriously imperiled the School's ability to provide opportunities for competition to over three-quarters of the student population that participate in on-campus athletics.  Despite the cancellation of the spring season in 2020, however, athletics at MBS resumed in July with voluntary team workouts, which took place under strict social distancing guidelines.  They have continued throughout the fall and winter with a small number of postponements and cancellations due to positive tests at either MBS or opposing schools.
MBS Athletic Director Joanne Dzama is proud of the efforts that have allowed sports to occur.  She said, "Our student-athletes have been very responsive to all the new protocols and guidelines that have been thrown their way this year."
Assistant Girls Soccer Coach and Head Baseball Coach John Sheppard said, "It is a very difficult thing not knowing what is happening from day to day, week to week." He added that he was very proud of how his athletes have handled all of the scheduling disruptions.  For example, in the fall season, athletes wore their uniforms or practice outfits to school each day before heading to the fields. Unfortunately, the same could not be said for many winter athletes. Winter athletes often cannot wear their athletic clothes to school due to frigid temperatures (basketball and winter track) and the sheer volume of equipment many of them carry (ski and ice hockey).  These athletes were asked to change when they arrived at their practice facility or game site.  Athletes for all seasons do not have access to locker rooms this year.
Athletes have also been asked to make sacrifices in other aspects of their lives to limit the chances of exposure to the virus.  Head Girls Basketball Coach Mike Sturgeon has talked with his team about doing their best to stay in their 'bubble," telling them, "we [will] need to sacrifice for the 6-8 weeks that the season would be."  Sturgeon described this "bubble" thus: "come to school, go to practice, go home and then repeat the next day."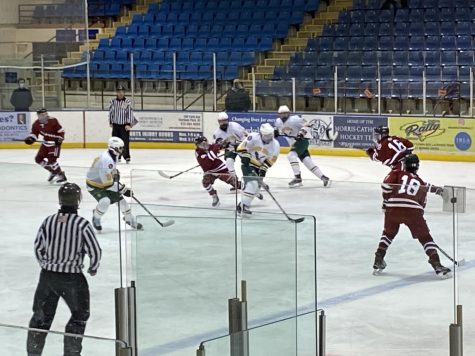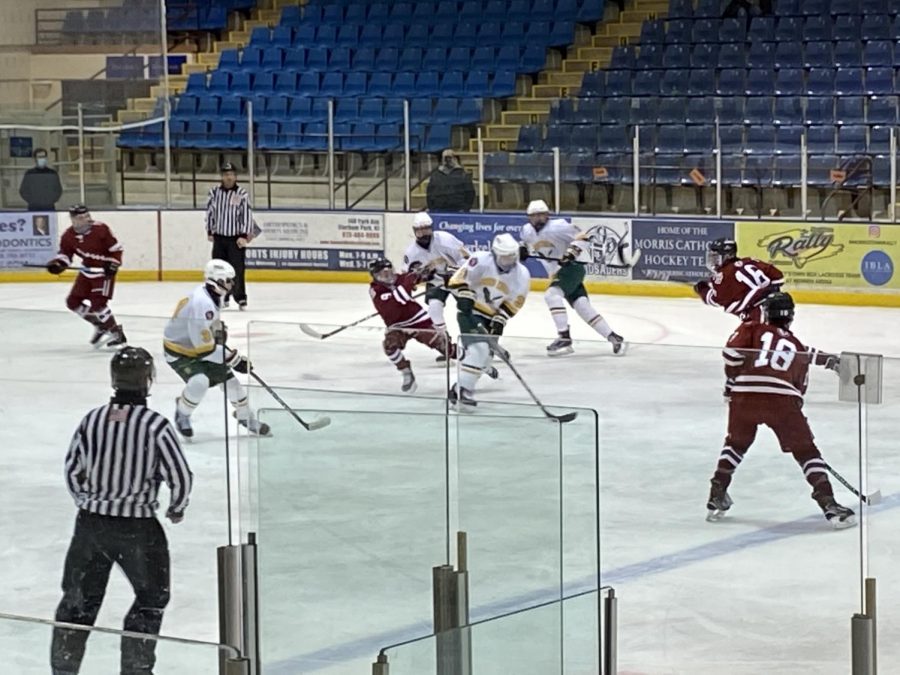 Spectator attendance at games has also been limited this year.  Initially, fall sports games had a capacity of 500 fans, but this was soon reduced to two fans per player.  The winter season has stricter guidelines. After he postponed the start of the winter season to January, Governor Phil Murphy also decreed that all winter sports competitions in New Jersey would have a "no spectator policy," meaning that only players, coaches, and officials could be physically present at games.  To allow parents, students, and others to watch the action, "MBS has contracted with a videographer to livestream all home basketball games," Dzama said.  Furthermore, both MBS hockey venues, Mennen Arena (boys) and Twin Oaks Ice Rink (girls) have equipment for live streams, which have been broadcast throughout the season.
In some instances, changes have been made to the way games are played.  Sturgeon explained that "there is no jump ball anymore; we actually do a coin toss to see who starts with the ball." He added, "Referees also will not touch the ball at all; it disrupts the flow of the game but after two games we have adjusted to it."
Scheduling practices and games in this pandemic-impacted season has been an arduous task.  Dzama said, "our office has been inundated with scheduling changes throughout the year due to our school's shutdowns and our opponents' shutdowns." Dzama credits the Assistant Director of Athletics Cathy Flemming for her tireless work on developing weekly schedules that often have to be changed multiple times.
Sheppard summed up the situation from a coach's perspective: "Coaches love to plan for every contingency and this year we've far too often had to resort to 'plan B," but I believe this challenge will make us better coaches."