Apple TV+ Hits it Big with "Ted Lasso"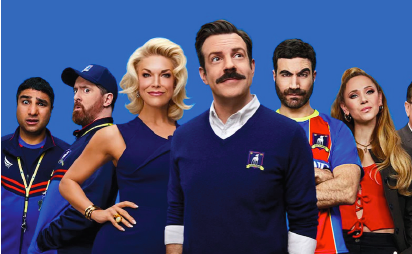 The comedy television series Ted Lasso, offered through the streaming service Apple TV+, tracks the story of an American football coach who goes to England to coach soccer, of which he knows little about. Consisting of a talented cast by the likes of Jason Sudeikis as Ted Lasso, Hannah Waddingham, and Brett Goldstein, the show garnered a total of 20 Primetime Emmy nominations – the most for a debut season of a comedy show. It won 7 Emmys including Outstanding Actor in a Comedy Series (Sudeikis), Outstanding Supporting Actor in a Comedy Series (Goldstein), Best Supporting Actress in a Comedy Series (Waddingham) and Best Comedy Series. Season 2 of the Apple TV+ original is currently streaming, and the production of Season 3 reportedly will start in January of 2022.
This lighthearted, priceless comedy is one of the best shows you'll ever watch. Drained from dry, draggy jokes? Every part of Ted Lasso will leave you wanting to watch another episode. Other cast members like Juno Temple (Keeley Jones), Brendan Hunt (Coach Beard), and Nick Mohammed (Nathan) keep the show lively and addicting. Temple, Hunt and Mohammed all earned Emmy nominations for their performances.
The first season delves into the surprising reason Ted Lasso was hired by a Premier League team (AFC Richmond) without any experience coaching soccer and follows his debut season as the head coach. Fighting off relegation, sabotage, and dubious business decisions, Lasso uses his joyful and optimistic persona to take the reins of the club and make it through the soccer season relatively unscathed. 
Ted Lasso's second season doesn't take its foot off the pedal as Lasso and his team try to break a multi-game tie streak, while hilarious side characters keep this clever comedy going.
There is also an emotional side to "Ted Lasso."  Due to an unfortunate incident involving the team dog, sports psychologist Dr. Sharon Fieldstone (Sarah Niles) is brought in to help the team cope, which, in turn, forces Lasso to confront his past. This only makes him an even more sympathetic protagonist as more details of his inner emotions are uncovered. I cannot wait to see what the third season has in store.