Spider-Man: No Way Home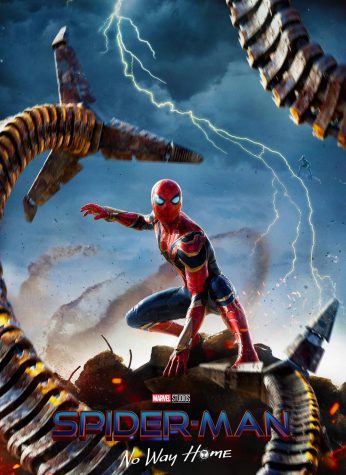 On December 17, 2021, the final film of the amazing trilogy of Marvel Spider-Man films starring Tom Holland as Peter Parker/Spider-Man had its theatrical release earning $260 million in the United States on opening weekend alone (the only non Avengers film in the top 5 grossing superhero movies of all time). Directed by  Jon Watts, who also directed the first two films and will be directing the MCU's version of the Fantastic Four further down the line,  Spider-Man: No Way Home was worth the two-year wait since its predecessor Spider-Man: Far From Home and should definitely be on your watch list.
No Way Home was written by Erik Sommers and Chris McKenna, who worked with Watts on the two previous films. The blockbuster was  filled to the brim with groundbreaking Marvel Cinematic Universe (MCU) moments and MCU spoilers. 
As the first feature film in the MCU to explore the idea of the multiverse and many different realities existing simultaneously, the film has an impressive cast that combines actors and characters from every live-action Spider-Man film series into one brilliant mashup. These include Holland, Zendaya (as love interest MJ Watson), Jacob Batalon (best friend Ned Leeds), and Benedict Cumberbatch (Dr. Strange).
The story picks up immediately where Far From Home left off with the entire world learning that Peter Parker is Spider-Man due to Mysterio (the previous film's villain played by Jake Gyllenhaal) revealing the well-guarded secret  in a video. The first act is Parker and his friends trying to adjust to life now that his identity has been exposed, eventually becoming desperate to fix the situation after Parker's friends fail to get into college because of their association with him. The unfairness of their futures being ruined just because they know him drives Parker to go to Dr. Strange for help. Strange agrees to help, and tries to cast a spell to make the world forget who Spider-Man is, but Parker screws it up with all his requests for alterations. This inadvertently causes individuals from other realities like Doctor Octopus, Green Goblin, and Lizard, who know Spider-Man's identity, to be pulled into this one. Parker and his friends then need to capture each of these villains to send them back to their home realities.
The film centers around Parker having to come to terms with the fact that there are consequences to his actions. He has had to deal with this before in the previous 2 films, but not nearly to the extent that he does in No Way Home. Holland's performance went above and beyond to solidify him as a great superhero actor and a great actor in general. Holland's ability to make Spider-Man/Peter look happy on the outside, while still having those undertones of anger and sadness at his mistakes is a spectacle to watch. When he can no longer keep up the facade and he is alone and his true feelings of pain are unmasked you really feel for him. As for the other actors, they easily slip back into their roles that some of them last played 18 years ago. The digital de-aging technology is so good, it is easy to forget that they were even using it.b
It is hands down the greatest Spider-Man movie. The ending was also so incredibly powerful and is a near masterpiece of storytelling. The emotional payoff is immense, and the ending while wrapping up Spider-Man's story nicely leaves room for future stories.  
At the film's penultimate battle at the Statue of Liberty, previewed in the trailer, Parker and Strange working together to send the villains home in the Multiverse was truly heart pounding. The first appearance of the Multiverse in an MCU movie is not a simple feat. It is difficult to share more about  the plot other than a general description without giving away massive spoilers. 
Decades of storytelling in the MCU have led to the ultimate Spider-Man film that is enjoyable for both old and new fans alike. 
Spider-Man: No Way Home is now available to purchase through most streaming platforms including Vudu, Amazon Prime Video, and Apple TV for $19.99.