The Chillest Musical Yet
This spring, the full scope of Morristown Beard's theatrical talent will be captured with the musical adaptation of Ned Vizzini's bestselling novel Be More Chill. The musical follows high school student Jeremy Heere and his experiences with the SQUIP, a pill-sized supercomputer that he hopes will help him become more popular.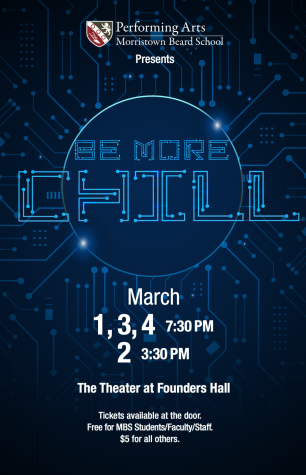 The cast is composed of several brilliant student performers this year, with freshman Daniel Raimer portraying lead Jeremy Heere and senior Alana Smith supplying the voice of the SQUIP. Jeremy's best friend, Michael Mell will be played by freshman Ari Mandel, and senior Maggie Ahern will fill the role of love interest Christine Canigula. Kaitlin Brown '24, Cameron Weil '26, and Maya Bhide '23 will play friends Chloe, Brooke, and Jenna, respectively. Sal D'Agostino '23 as Jake Dillinger and Henry D'Andrea '24 as Rich round out the ensemble cast. Supporting roles include Adin Kasmin '24 as Mr. Heere, Dylan Mandel '23 as drama teacher Mr. Reyes, and Jonathan Spencer as the Scary Stockboy.
The musical will run from the first of March through the fourth, with a matinee performance right after school on the second. Until then, though, the cast and crew will be rehearsing diligently to ensure a smooth and entertaining show. It is only after multiple weeks of auditions and callbacks that rehearsals are finally ready to begin. Per Dylan Mandel, the musical is ready to begin staging and blocking in rehearsal, which describes a process that normally takes "a month or two" in which cast members acquaint themselves with their lines and start to position themselves in scenes. The lead-up in the two weeks before the show is reserved for run-throughs of the full show, with one or two dress rehearsals immediately preceding opening night. "Show night is very exciting. A lot of people tend to be nervous… but I know from my experience that everyone [will be] super well prepared," says Mandel.
Be More Chill will land on the Founders Hall stage after brief stints in theaters across America and England. The musical originally opened in Red Bank, New Jersey, in 2015 as part of a four-year effort to develop new plays and musicals at the Two River Theater. Three years later, in 2018, Be More Chill was picked back up off-Broadway, before transitioning to Broadway previews in early 2019 at the Lyceum Theater in New York. Despite favorable reviews through 177 Broadway performances, Be More Chill has found only measured success in other theaters; a limited, ten-week run in London's West-End opened to overwhelmingly positive audience reviews after pandemic restrictions derailed a wider circuit of the city's theaters. However, a Chicago production originally marred by the same pandemic restrictions has now been canceled altogether for undisclosed reasons. 
Now, Morristown Beard's performing arts department has selected Be More Chill to return to New Jersey. The decision was announced in the fall, with Be More Chill contending with Steven Sater's adaptation of Spring Awakening, another coming-of-age piece, but set in the nineteenth century. Though a choice between two sexuality-themed musicals may sound strange to some, those involved have praised the pertinence of each musical's plot. According to D'Agostino, "the suppression of teen sexuality — especially in the twenty-first century — is actually quite a pressing issue in a lot more areas than you might think."
A review of the musical will be published with the third issue of Crimson Sun.